As you probably know by now, St. Patrick is the patron saint of Ireland.
He was born, it is believed, in Britain in the late 4th century of possibly Roman or Welsh ancestry, and when he was 16 years of age, was kidnapped and brought to Ireland as a slave by Irish slave owners.
Some years later it is thought he escaped back to Wales. He became a Christian and the story goes that he had a dream and in it he heard the Irish people calling him to come back and save them.
In the year 432 he returned to Ireland and began his journey to bring Christianity to the Irish. By the time of his death on March 17 in the year 461, he had set up monasteries, churches, and schools throughout Ireland.
Many legends grew up around around Saint Patrick including, that he drove the snakes out of Ireland and used the shamrock to explain the Trinity that there are three persons in the one God.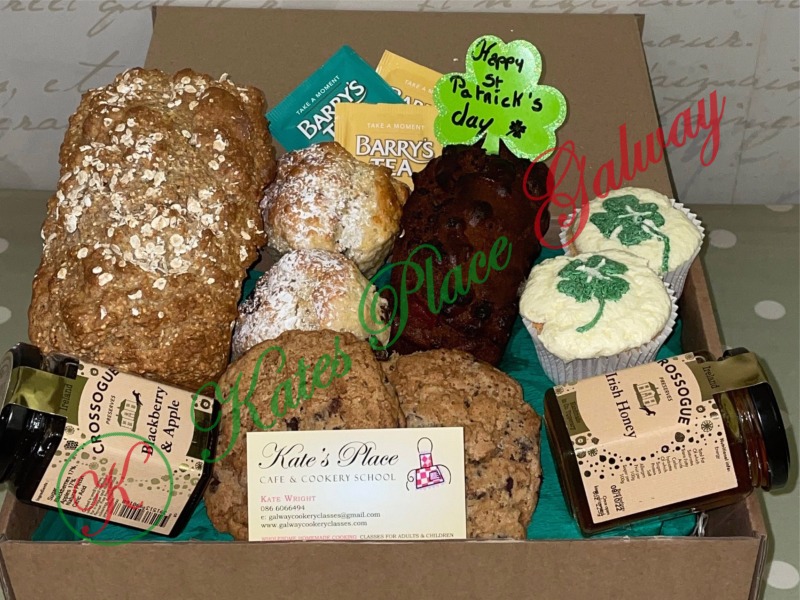 Today St Patricks day is celebrated throughout the world and what better way to celebrate than with a gift box of St Patrick's day traditional food ideas. Traditional St. Patrick's day food might start with a full Irish breakfast of rashers, sausages, black pudding, white pudding, fried egg and mushrooms or baked beans.
However, Kate has put together a delicious homemade St Patrick's day traditional food gift box for that special afternoon tea or supper on St. Patrick's day.
Order now online and send the St. Patrick's Day Food Box to family or friends anywhere in Ireland or enjoy it yourself and celebrate St Patrick's day than with a vegetarian treat of homemade Irish brown bread, Irish porter cake and other delights.
Inquiry Form