Team Building Cooking Class
Let Galway Cookery Classes make your indoor team building event a day to remember and don't worry about the weather! Kate will provide plenty of baking or cooking class fun giving your team a fantastic opportunity to break down barriers by developing bonds and strengthen communication skills, whatever the weather is like outside!
Located in Kilcolgan, near Oranmore and a short drive to Galway city, we are easily accessible from all areas of Ireland. Maybe you want to do something online with our virtual classes on Zoom or would prefer us to come to you but don't have any equipment or cooking facilities – it's not a problem! Kate and her team will bring the cooking equipment to your place.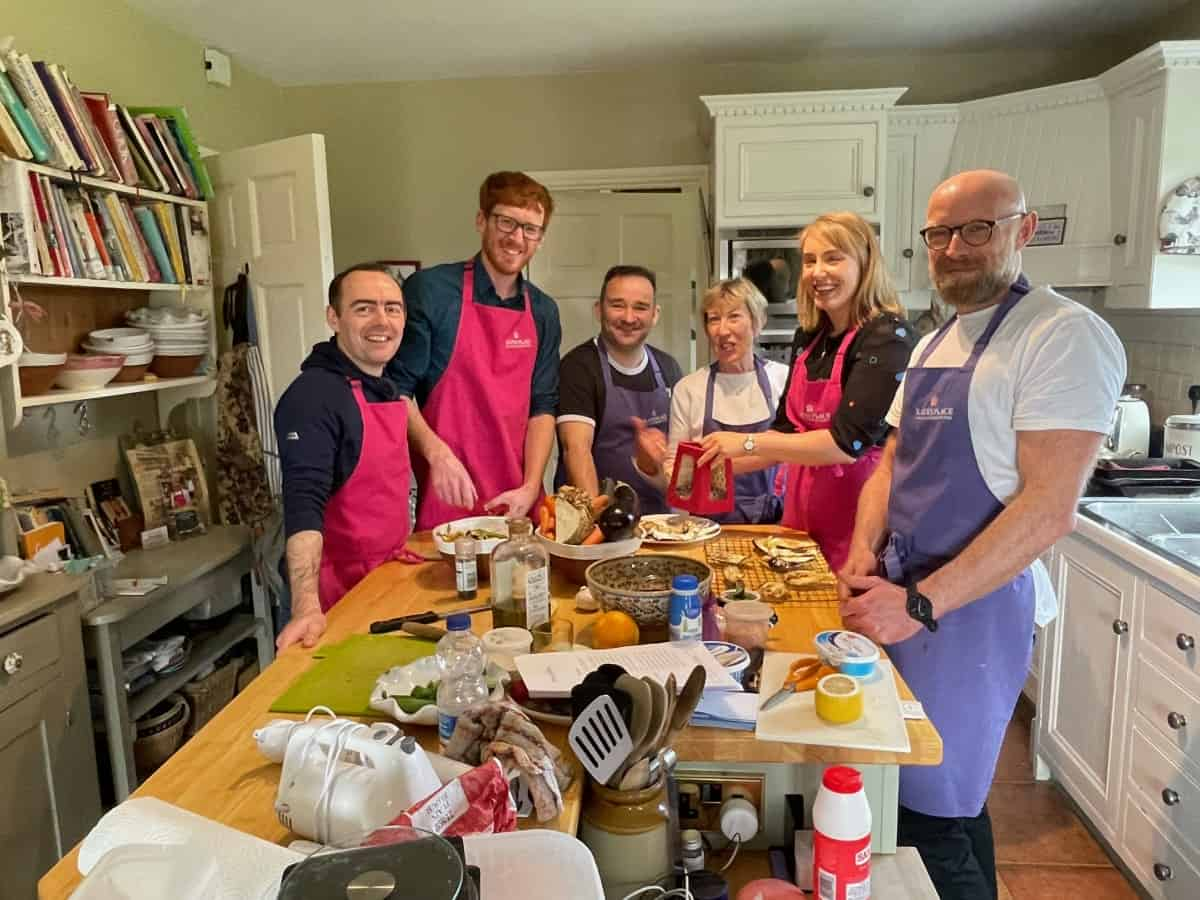 3-Course Dinner Party
Afternoon Tea & Scones
Homemade Bread Bake Off
Irish Stew Cookalong (Vegan Option)
Macaron Masterclass
Pasta Workshop
Sunday Brunch
Veggie Pizza Superclass
Why not create your very own pizzas from scratch, dive into a variety of toppings and play a few fun games with the whole group! Watch and learn as well from a pro like Kate, all the while getting to know everyone in a relaxed, out of work environment. Do you need an ice breaker experience for your new co-workers or teams, or you just want an cooking event that is sure to bring people out of their shells? Don't worry, with Kate at the helm this delicious pizza super-class is sure to do the trick.
As well as being great fun, these corporate cooking events are also very flexible, usually lasting from 90 minutes to 3 hours. All of our team cooking activities are entirely hands-on and are, therefore, extremely engaging.
Book Your Next Team Event Now
Wherever possible, Kate will happily tailor your event to reflect any key messages you wish to communicate or your brand. She is also happy to accommodate any special dietary requirements or allergies your group or someone in the group may have. Kate will provide aprons for all participants and everything you make during your event is yours to keep. For most of the team cooking experiences, participants will eat the food they create and so they are great to run at lunchtime or in the evening.
The possibilities are endless at Galway Cookery Classes and there are countless creative culinary ideas for your group cooking experience. From start to finish, you can count on Kate and her team to assist you at all levels so together we can put on the best team building activities for your group or private party.
For more information or to book a date for you upcoming event, please submit the Group Event Request Form here.